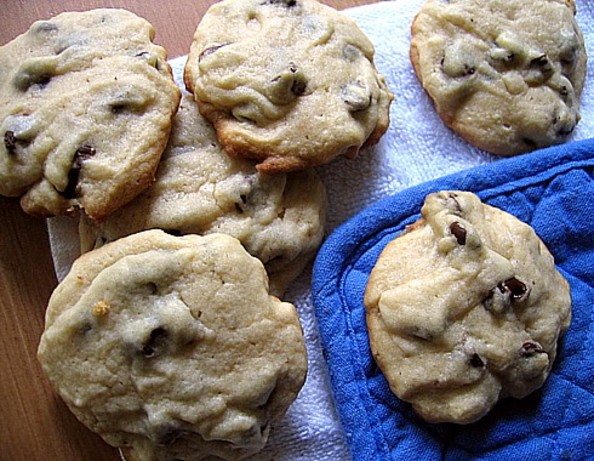 Ingredients:
2cups all-purpose flour (280 gms)
2tablespoons all-purpose flour (20 gms)
1⁄2teaspoon baking powder
1⁄2teaspoon salt
3⁄4cup unsalted butter, melted and cooled until warm (170 gms)
1cup brown sugar (packed, light or dark, 236 gms)
1⁄2cup granulated sugar
1large egg
1large egg yolk, from a large egg
2teaspoons vanilla extract
1 1⁄2cups chocolate chips (semi-sweet, milk chocolate or any combination, 300 gms)
1cup walnuts (114 gms, chopped) (optional)
Directions:
A couple of tips from helpful reviewers.
The dough is meant to be on the dry side so it can be rolled, not dropped.
If you're not getting a good flavor, try using a higher quality vanilla and/or chocolate chips. (Penzey's Madagascar Vanilla, Ghirardelli chips, fresh/real butter).
Check your oven temperature, cooking time and temperature is critical. If the cookies are not chewy they are probably overcooked.
Bread flour will make the cookies even more chewy, biscuit flour will make them less chewy.
Do not let your dough get warm, I like to scoop it on to pans and refrigerate before I pop them in the oven.
Pan color is very important, if they are too dark you may experience some crisp edges, try using some parchment and lowering the cooking temperature a bit.
Place oven racks in the upper and lower 1/3's of the oven.
Preheat oven to 325°F.
Cover 2 large cookie sheets with parchment paper Mix flour, baking powder & salt in a bowl or bag and set aside.
Mix butter and sugars with with a mixer until blended and smooth, add egg, yolk & vanilla.
Mix until incorporated.
Add dry ingredients and mix until just combined.
Stir in chips and optional nuts.
Divide into 18 equal balls, a 2" cookie scoop works just about perfectly, about 60 gms each.
EVENLY space 9 on each cookie sheet.
Bake for 12-18 minutes, rotating front to back and top to bottom after 8 minutes.
Cool on sheets to maintain chewy texture.
Source: View Source
Nutrition Facts:
Serving Size: 1 (66 g)
Servings Per Recipe: 18
Amount Per Serving

% Daily Value

Calories

265

Calories from Fat 112

43%

Total Fat

12.5

g

19%

Saturated Fat

7.5

g

37%

Cholesterol

40.9

mg

13%

Sodium

85.5

mg

3%

Total Carbohydrate

37.9

g

12%

Dietary Fiber

1.2

g

4%

Sugars

25.1

g

100%

Protein

2.7

g

5%