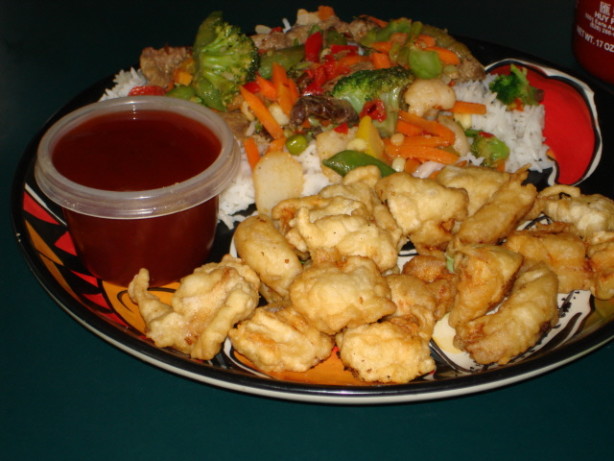 Rating:
1 hours 30 minutes
Print
Ingredients:
SWEET AND SOUR SAUCE
1⁄2cup ketchup
1teaspoon soy sauce
1⁄3cup white vinegar
1⁄2cup brown sugar, lightly packed
1cup white sugar (can reduce a 2-3 tablespoons for a less sweeter taste)
3⁄4cup cold water (or can use unsweetened pineapple juice or half each, I prefer the pineapple juice)
3tablespoons cornstarch (for a thinner sauce reduce to 2 tablespoons, if you want an very thick sauce use 4 tablespoons)
CHICKEN BALL BATTER
1cup all-purpose flour
1cup cornstarch
2teaspoons baking powder
2teaspoons baking soda
1⁄2teaspoon garlic powder (garlic lovers add 1 teaspoon)
2teaspoons sugar
1 1⁄3cups cold water (if you are reducing to half a recipe use 1/2 cup plus 2-1/2 tablespoons water)
1 -2teaspoon sesame oil (optional but good to add)
oil (for frying)
8chicken breasts, cut into bite-size pieces
seasoning salt (optional)
Directions:
To make the sweet and sour sauce sauce; in a saucepan combine the first 5 ingredients until combined.
In a cup or bowl whisk the cold water or pineapple juice with cornstarch until smooth and well blended, then whisk vigorously into the ketchup mixture; bring to a boil stirring or whisking constantly over medium-high heat until bubbly.
Reduce the heat to medium-low and continue simmering and mixing until thickened (be patient the sauce takes a few minutes to thicken up) remove from heat and allow to sit at room temperature while making the chicken balls or you may cool to room temperature then refrigerate until ready to use (I prefer the sauce at room temperature).
To make the chicken balls: in a large bowl combine flour, cornstarch, baking powder, baking soda, garlic powder; add in water and sesame oil; whisk vigorously until smooth.
Add in chicken pieces; using clean handsand mix until well coated.
Heat oil in a deep-fryer or Dutch oven to 375 degrees.
Carefully dip the battered chicken pieces in hot oil and fry until golden brown (about 3-4 minutes).
Remove to a paper towel.
Sprinkle with seasoning salt immediately after frying if desired.
Serve immediately with sweet and sour sauce.
Delicious!
Source: View Source
Nutrition Facts:
Serving Size: 1 (309 g)
Servings Per Recipe: 8
Amount Per Serving

% Daily Value

Calories

555

Calories from Fat 127

23%

Total Fat

14.2

g

21%

Saturated Fat

4

g

19%

Cholesterol

92.8

mg

30%

Sodium

714.4

mg

29%

Total Carbohydrate

73.1

g

24%

Dietary Fiber

0.7

g

2%

Sugars

42.9

g

171%

Protein

32.3

g

64%