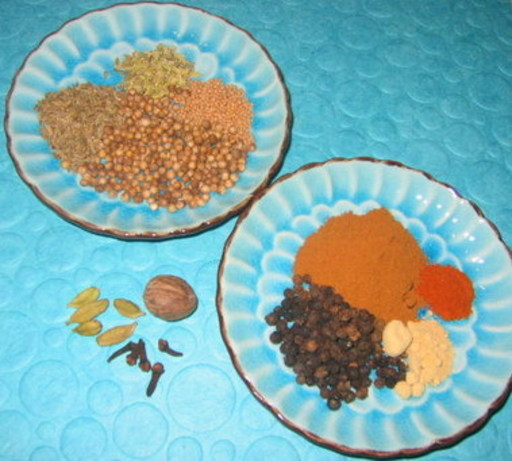 Ingredients:
8tablespoons coriander seeds
6tablespoons cumin seeds
1tablespoon mustard seeds
1tablespoon fennel seed
4tablespoons ground cinnamon
8tablespoons peppercorns
1tablespoon ground nutmeg
1tablespoon whole cloves
2tablespoons ground cardamom
2tablespoons turmeric
2tablespoons ground ginger
1tablespoon cayenne (or less if less heat is desired)
Directions:
In a dry skillet over very low heat, place the coriander, cumin, mustard and fennel seeds. Roast the seeds gently, shaking the pan occasionally, until they begin to pop. When about half the seeds have popped, add the cinnamon, peppercorns, nutmeg, cloves, cardamom, turmeric, ginger and cayenne.
Continue to heat and stir gently until the mixture is quite hot but not burnt. Pour into a dry blender or food processor, or use a mortar and pestle. Grind into a fine powder. Pour into a clean, dry jar, seal, and let it cool before using.
Source: View Source
Nutrition Facts:
Serving Size: 1 (244 g)
Servings Per Recipe: 1
Amount Per Serving

% Daily Value

Calories

5265.4

Calories from Fat 963

18%

Total Fat

107.1

g

164%

Saturated Fat

24.2

g

121%

Cholesterol

0

mg

0%

Sodium

936.7

mg

39%

Total Carbohydrate

1239.8

g

413%

Dietary Fiber

527.7

g

2110%

Sugars

21.3

g

85%

Protein

216.9

g

433%