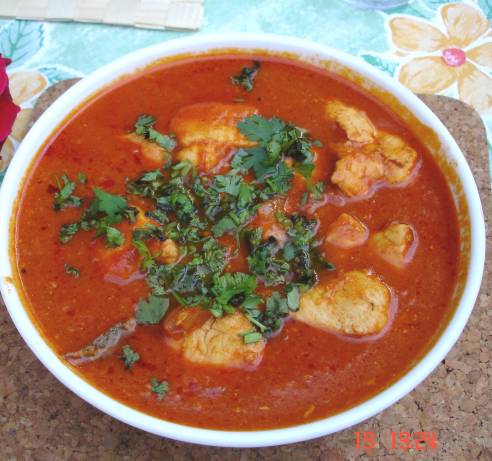 Rating:
1 hours 40 minutes
Print
Ingredients:
1tablespoon peanut oil
1shallot, finely chopped
1⁄4white onion, chopped
2tablespoons butter
2teaspoons lemon juice
1tablespoon ginger-garlic paste
1teaspoon garam masala
1teaspoon chili powder
1teaspoon ground cumin
1bay leaf
1⁄4cup plain yogurt
1cup half-and-half
1cup tomato puree
1⁄4teaspoon cayenne pepper, to taste
1pinch salt
1pinch black pepper
1tablespoon peanut oil
1lb boneless skinless chicken thighs, cut into bite size pieces
1teaspoon garam masala
1pinch cayenne pepper
1tablespoon cornstarch
1⁄4cup water
Directions:
Heat 1 tablespoon oil in a large saucepan over medium high heat.
Saute shallot and onion until soft and translucent.
Stir in butter, lemon juice, ginger garlic paste, 1 teaspoon garam masala, chili powder, cumin and bay leaf.
Cook, stirring, for 1 minute.
Add tomato puree and cook for 2 minutes, stirring frequently.
Stir in half-and-half and yogurt.
Reduce heat to low and simmer for 10 minutes, stirring frequently.
Season with salt, pepper and cayenne.
Remove from heat and set aside.
Heat 1 tablespoon oil in a large heavy skillt over medium heat.
Cook chicken until lightly browned, about 10 minutes.
Reduce heat and season with 1 teaspoon garam masala and cayenne.
Stir in about 1/3 of the sauce and simmer until liquid has reduced and chicken is no longer pink, about 5 minutes.
Pour the rest of the sauce into the chicken.
Mix together cornstarch and water, then stir into the sauce.
Cook for 5 to 10 minutes, or until thickened.
Source: View Source
Nutrition Facts:
Serving Size: 1 (307 g)
Servings Per Recipe: 4
Amount Per Serving

% Daily Value

Calories

378.4

Calories from Fat 223

59%

Total Fat

24.8

g

38%

Saturated Fat

10.6

g

53%

Cholesterol

134.1

mg

44%

Sodium

250.3

mg

10%

Total Carbohydrate

13.5

g

4%

Dietary Fiber

1.9

g

7%

Sugars

4.3

g

17%

Protein

26.3

g

52%