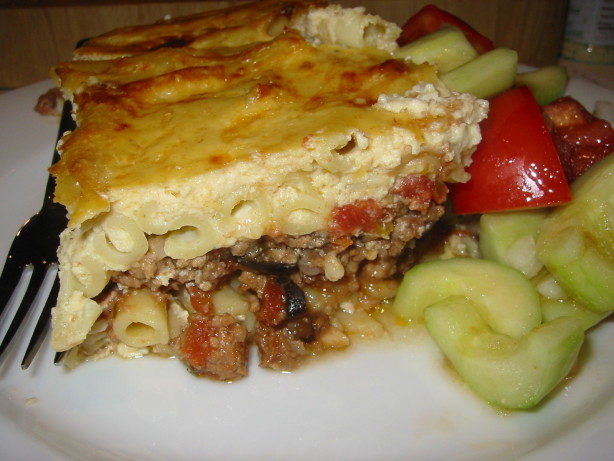 Rating:
2 hours 0 minutes
Print
Ingredients:
Meat sauce
enough olive oil, to just coat the bottom of a large pot
2large onions, finely chopped
3garlic cloves, minced
2lbs lean ground meat (I often use a combo of beef and pork, lamb would be good too, but go heavier on the beef)
2(16 ounce) cans diced tomatoes with juice (concasse)
1⁄3cup chopped pitted kalamata olive (optional)
1teaspoon salt
1⁄2teaspoon pepper
1teaspoon dried oregano
1bay leaf
1⁄2cup red wine
1cinnamon stick, broken in two
Pasta
1lb penne or 1 lb rigatoni pasta
3tablespoons melted butter
2cups whole milk
2eggs, beaten
1⁄2cup grated kefalotiri or 1⁄2 cup romano cheese or 1⁄2 cup parmesan cheese
Bechamel Sauce
6tablespoons butter
1⁄3cup flour
4cups milk
1⁄2teaspoon salt
1⁄8teaspoon pepper
1⁄4teaspoon nutmeg
3eggs
1⁄2lb grated kefalotiri or 1⁄2 lb romano cheese or 1⁄2 lb parmesan cheese, divided
Directions:
For the meat sauce, put some olive oil in a large pot; saute onion until lightly browned; add garlic; add meat and cook until brown, crumbling with a fork; add remaining meat sauce ingredients to skillet; mix well; cover and simmer for 1 hour, stirring occasionally, until quite thick; let mixture cool; remove and discard cinnamon stick and bay leaf.
Prepare pasta by boiling until al dente in plenty of boiling, salted water; drain and place pasta in a large bowl; add butter, milk, eggs and 1/2 cup cheese; gently stir to coat; set aside.
To prepare bechamel sauce, melt butter over medium heat in a saucepan; stir in flour until smooth, cook, whisking for 2 minutes; gradually add milk, stirring, until thickened; lower heat; add salt, pepper and nutmeg; remove from heat.
In medium-sized bowl, beat 3 eggs; slowly add hot cream sauce to eggs; stir thoroughly so eggs don't curdle.
Preheat oven to 350°F and butter or oil (with olive oil) a large baking pan (my pan is about 18" x 10").
Empty 1/2 of the penne mixture over bottom of pan; cover evenly with all of meat sauce; sprinkle 1/3 of the cheese over meat sauce; add remaining penne mixture, spreading evenly; sprinkle another 1/3 of the cheese over top; pour bechamel sauce evenly over entire casserole; top with remaining cheese.
Bake until bechamel sauce sets and has golden-brown patches across top, approximately 45 minutes to 1 hour; cool at least 20 minutes before cutting into pieces for serving.
Freezer Notes: Once the baked pastitsio has completely cooked, cut serving-size pieces, double-wrap in foil and freeze. Defrost in the usual manner and reheat in microwave (or oven) for a delicious, quick meal, when there's little time to cook and dinner is ready and waiting in the freezer!
Source: View Source
Nutrition Facts:
Serving Size: 1 (310 g)
Servings Per Recipe: 10
Amount Per Serving

% Daily Value

Calories

436.6

Calories from Fat 171

39%

Total Fat

19.1

g

29%

Saturated Fat

10.7

g

53%

Cholesterol

139

mg

46%

Sodium

677.4

mg

28%

Total Carbohydrate

53.5

g

17%

Dietary Fiber

6.6

g

26%

Sugars

6.1

g

24%

Protein

12.9

g

25%