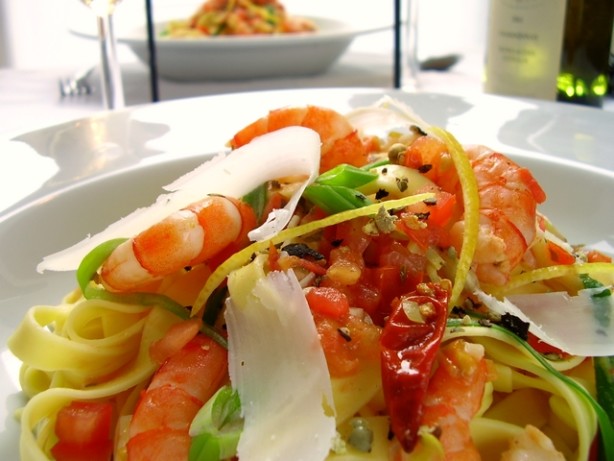 Ingredients:
1⁄2lb shrimp, peeled and deveined
8ounces pasta, any kind
2garlic cloves, minced
3green onions, chopped
1lemon, juice and zest of, about 2 Tbsp juice
2teaspoons red pepper flakes (adjust to taste) or 1 -2 jalapeno pepper, diced (adjust to taste)
1teaspoon dried basil, crushed or 1 tablespoon fresh basil, chopped
1teaspoon salt
4tablespoons dry white wine
1tomatoes, chopped
salt
fresh cracked pepper
Directions:
Boil the pasta in salted water until it is done to your liking.
Drain well reserving about 1 cup of pasta water.
Place pasta in serving bowl or divide among two dinner bowls.
While pasta water is heating zest and juice lemon and prepare all ingredients. This recipe will go FAST!
After adding pasta to boiling water, sprinkle a small amount of olive oil in a cold nonstick skillet and smear around with your CLEAN fingers. (Massage oil left on your fingers into your hands – it will make them silky soft.).
Turn heat on to medium high and let the pan warm for a minute or two. You want the pan to just be warm when you hold your hand over the surface.
Add the shrimp, garlic, onion, lemon rind, and pepper and cook stirring constantly for 2-3 minutes. Shrimp will just start to turn opaque but not yet pink.
Add tomatoes, salt, basil, lemon juice, and white wine. Stir and cook for another 2-3 minutes or until shrimp turn pink. (If using dried basil crush in hand before adding to pan to release oils. A different herb can be substituted if you prefer- just use the same quantity.).
Add in as much of the 1 cup reserved pasta water as you like- if any- to make as much sauce as you would like.
Taste sauce and adjust seasonings to your taste. If you would like a more onion or garlic flavor, add onion or garlic powder.
Spoon over drained pasta and garnish with fresh black pepper or additional pepper flakes if desired.
Other nice garnishes would be a little chopped parsley or green onion as well as a sprinkling of fresh grated parmesan.
Light the candles, top off the wine glasses and serve!
Source: View Source
Nutrition Facts:
Serving Size: 1 (373 g)
Servings Per Recipe: 2
Amount Per Serving

% Daily Value

Calories

561.6

Calories from Fat 30

5%

Total Fat

3.4

g

5%

Saturated Fat

0.6

g

2%

Cholesterol

142.9

mg

47%

Sodium

1821.1

mg

75%

Total Carbohydrate

94.8

g

31%

Dietary Fiber

5.7

g

22%

Sugars

6.3

g

25%

Protein

31.8

g

63%