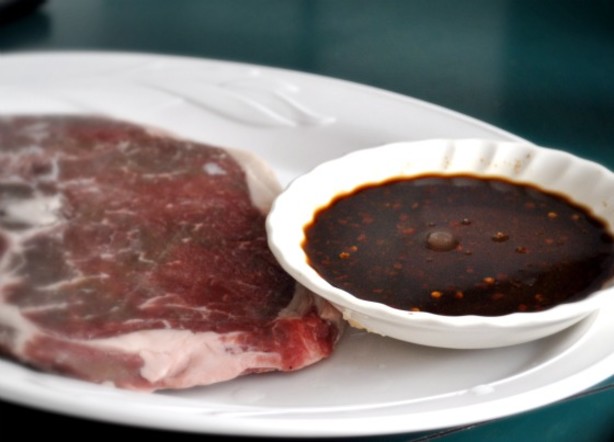 Ingredients:
3heads garlic (about 30 to 40 cloves)
2teaspoons salt
1teaspoon black peppercorns
1cup orange juice
1⁄4cup fresh lime juice
1⁄4cup fresh lemon juice
1cup onion, minced
2teaspoons oregano
1cup Spanish olive oil
meat, of choice pounded or cut thin (beef, chicken, pork)
Directions:
Mash garlic, salt, and peppercorns into a paste, using a mortar and pestle. Stir in orange juice, lime juice, lemon juice, onion, and oregano. Let sit at room temperature for 30 minutes or longer. Whisk the garlic-orange juice mixture with the olive oil until well blended.
Preparing the Meat: Preparing the meat is very easy. Place the meat in a large bowl or pan. Add enough marinade to cover the meat. Place a cover over the bowl or pan and place in the refrigerator a minimum of five hours, but preferably overnight.
Grill the marinated meat outdoors on the barbecue. (Make sure your coals are hot and white!). For the steak – you can cook them however you like your it — from rare to well done. However, the rarer the meat, the more tender and flavorful!
Serve the meat with the Recipe #456210.
Source: View Source
Nutrition Facts:
Serving Size: 1 (941 g)
Servings Per Recipe: 1
Amount Per Serving

% Daily Value

Calories

797

Calories from Fat 653

82%

Total Fat

72.6

g

111%

Saturated Fat

10.1

g

50%

Cholesterol

0

mg

0%

Sodium

1565.8

mg

65%

Total Carbohydrate

37.3

g

12%

Dietary Fiber

2.8

g

11%

Sugars

10.7

g

42%

Protein

5.3

g

10%